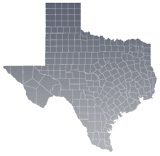 Special Offer: Texas Statewide Pro
From the largest of metropolitan counties to the sparsely populated counties of West Texas, the statewide package gives you complete access to every Pro Search and Interactive GIS Map we have available. This gives the user access to approximately 9 million parcels across all counties in the state of Texas.
3,000 credits are included with the Texas Statewide Pro package, and can be used to purchase Land Sketches, Improvement Sketches, and Downloadable Lists.
Package Details
Credits Included:
3,000 credits
Standard Package Price:
$5,000.00
Available Search Criteria
Ownership, Situs Information, Value, Square Footage, Deed Date, State Property Tax Board Codes, Year Built, and other search criteria.
Cost Savings Breakdown
All Counties:
$48,111.48
Package Price:
$5,000.00
Savings:
$43,111.48