Property Tax Data. Simplified.
Real-time property research tools. Interactive GIS maps. Advanced software solutions.
TaxNetUSA is the trusted real estate data company for property tax and real estate professionals.
It's How You Get Real Estate Data
Accurate Tax Information From Industry-Leading Real Estate Data Software
Our property tax search tool allows you to access public property records and instantly purchase a tax certificate. TaxNetUSA's intuitive interface is your one-stop shop for accurate tax certificates from any jurisdiction in Texas.
About Us
We're a real estate data company providing comprehensive property tax information online for a quarter century.
TaxNetUSA is the best real estate data provider in Texas. Founded in 1996, we've worked hard to become the leader in property tax information.

Created by property tax professionals, TaxNetUSA provides real estate property search software, tax assessor property search tools, and other innovative tools to businesses throughout the real estate and property tax industries. Our clients get unlimited access to the most accurate property tax information.

Please check out our solutions and industries we serve, or contact us if you have any questions.
TaxNetPRO
Advanced property research and marketing tools.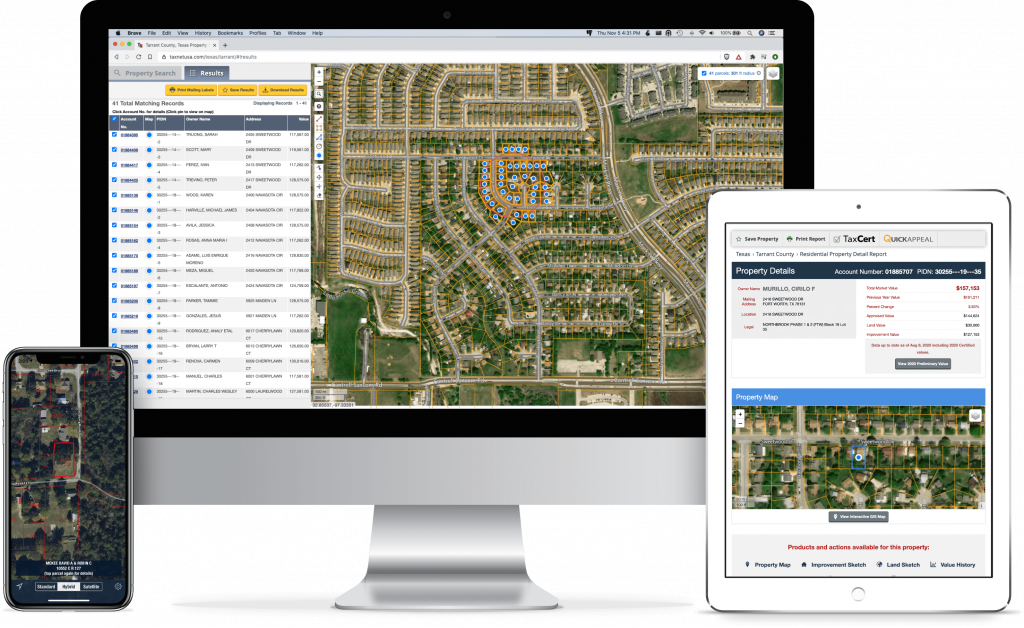 Search with GIS Map Tools
Search more than 11 million property public records, view property tax maps, and more with advanced criteria unavailable anywhere else, seamlessly integrated with accurate GIS parcel maps.
Our real estate property analysis software allows you to find all the property data you need and download a custom dataset to import into your office software, or print mailing labels directly.
Real estate and appraisal sketch software like no other. No more recreating floor plans just to calculate square footage. Ready-to-view building footprints are available for residential homes and commercial buildings in most counties.
Property Data Solutions
Property data, your way.
Along with our software solutions, our residential & commercial real estate data aggregator lets you access property data exactly how you want it.
Appraisal and assessor data, collector and delinquent tax data, GIS parcel data, and more. If you need property data in bulk, we've got you covered.
If you have a list of property owners, CAD account numbers, or street addresses, we can match your list with CAD data and give you the rest.
Integrate your software with our data with real-time machine access via our real estate API using XML or JSON queries and responses.
Resources
Get the help you need.
---
Our residential and commercial real estate research tools are easy to use. Check out our video library for training that is specific to your business.
Are you using our robust residential and commercial real estate analysis software to its fullest capabilities? Our specialists can help.
Need more technical expertise? We have it in abundance. Contact us to learn more about how TaxNetUSA can improve your business.
Questions? Give us a call at (817) 310-1077, or:
Stay up to date.
---
Get notified about product updates and upcoming promotions.
Schedule Demo Popup Content (Parent group block must have a class of "modal-content", and this paragraph block and iframe URL block must have a class of "hide")
//www.appointmentcore.com/app/freeslots/mGfZaG?iframe-view=SlotsV2