Your New Favorite Real Estate Comp Tool
Quick and easy equity appeals.
It's How You Appeal Property Taxes
Finding the data you need to identify comps for your subject properties requires the right tool.
Quick Appeal is the real estate comparables tool that's fast, up to date, and designed to help you build an equal and uniform protest that brings your client a reduction.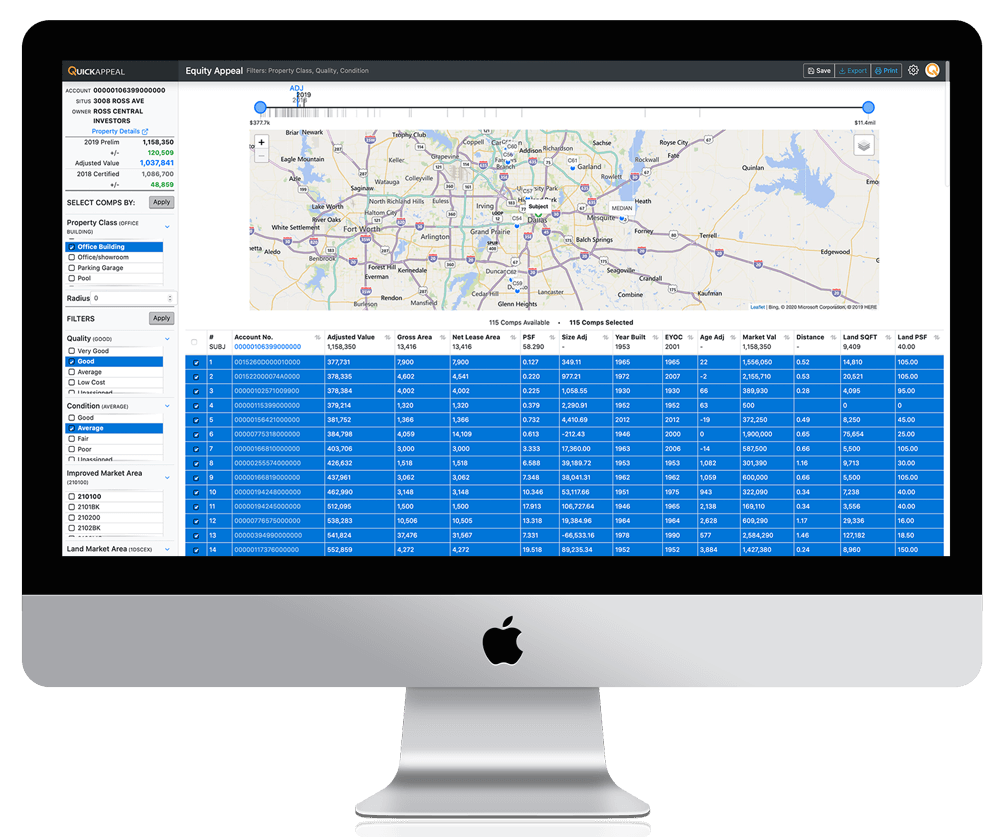 How It Works
Protest, research, and marketing tools. Made for your business.
You need intuitive software to do comps for your real estate clients the easy way. Quick Appeal is the answer.
QA lets property tax agents find the comps they need fast – so they can spend more time helping clients and less time navigating complex software. With Quick Appeal, Equal & Uniform appeals are easier than ever. Additional modules add a Sales Approach, Income Calculator, and Cost Model to your toolkit. Find home sales history for best comps, use local tax rates to calculate tax savings, and much more.
What tax consultants, realtors, and other professionals love about this product is its simplicity and accuracy. You can be confident that all the tax information you need to appeal property taxes for your client is intuitive to locate and easy to understand for experts and non-experts alike.
Learn more about how Quick Appeal, TaxNetPRO, and other solutions can change the game for your business.
Learn More About Our Real Estate Comparables Software.
You need real estate property tax software that provides fast, accurate, and easy to understand information to help you serve your customers better.
Contact TaxNetUSA today to learn more about our tax tax assessor software. We'll explain how Quick Appeals can improve your business, make your life easier, and increase your customers' satisfaction. Get pricing today at 817-310-1077, or schedule a demo to see exactly how it can work for you.
Stay up to date.
---
Get notified about product updates and upcoming promotions.