Automated Tax Certificates are now available from TaxNetUSA.
Search for any property in Texas from your dashboard and instantly purchase a tax certificate.
Our intuitive interface is your one-stop shop for accurate tax certificates from any jurisdiction.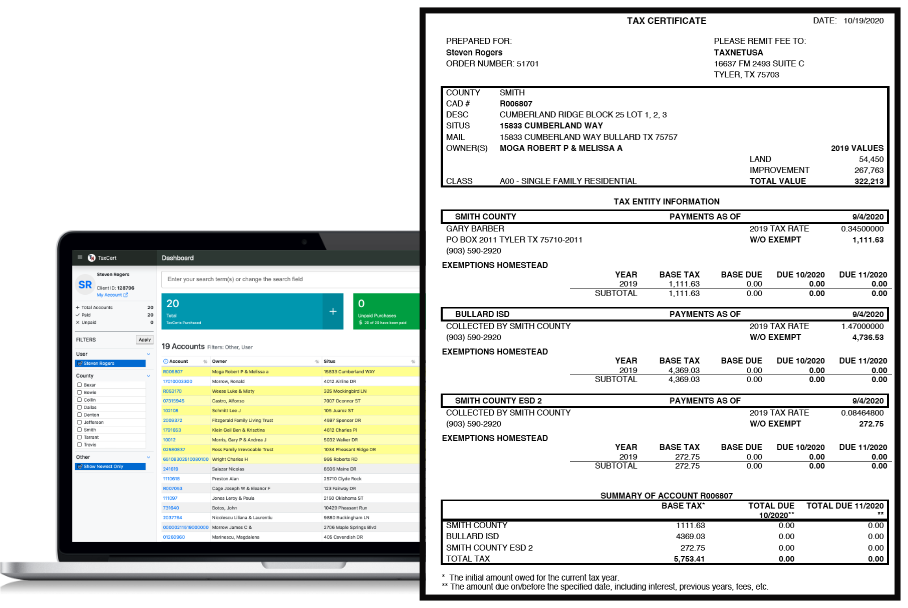 Schedule a demo to get your first Tax Cert free! Don't wait, slots are filling up fast.
Accurate, reliable Tax Certificates are essential to your business.
They don't have to be complicated or stressful.
---
TaxNetUSA has over 25 years of experience in dealing with property tax collectors and jurisdictions.
We have the knowledge and systems to be your single source of accurate, up-to-date tax certificates.
Search, print, and move on.
With our intuitive dashboard interface, there is no longer a need to research every taxing jurisdiction for a property.
Simply type the address or account number, and print an accurate tax certificate in seconds.
Really – that's all there is to it!
Let's talk more about it.
Closing a property sale is complicated and stressful enough.
You need a simple, straight-forward solution to rely on for your Tax Certificates.
Call us for pricing at 817-310-1077, or schedule a demo with our Tax Certificate Specialist.
Stay up to date.
---
Get notified about product updates and upcoming sales.