Get Texas Tax Certificates. Instantly.
Automated Tax Certificates
Search for any property in Texas from your dashboard and instantly purchase a tax certificate.
Our intuitive interface is your one-stop shop for accurate tax certificates in all Texas jurisdictions.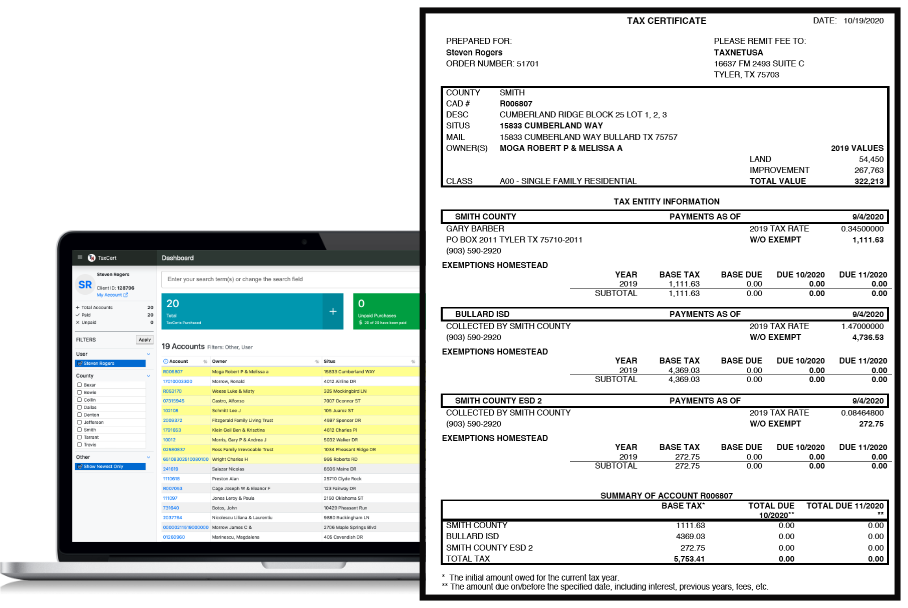 Schedule a demo to get your first Tax Cert free! Don't wait, slots are filling up fast.
Accurate, Reliable Tax Clearance Certificates Are Essential To Your Business.
They don't have to be complicated or stressful.
---
TaxNetUSA has over 25 years of experience in dealing with property tax collectors and jurisdictions.
We have the tools to be your single source for accurate, up-to-date tax clearance letters and all other property tax data you need.
Search. Print. Done.
Getting a tax certificate in Texas has never been easier.
With our intuitive dashboard interface, there is no longer a need to research every taxing jurisdiction for a property. Simply type the address or account number and print an accurate clearance certificate in seconds.
Obtain Tax Certificates. Instantly.
Closing a property sale is complicated and stressful enough. You need a simple, straight-forward solution to rely on for your tax clearance letters. Call us for pricing at 817-310-1077, or schedule a demo with our Tax Certificate Specialist.
What is a Tax Certificate?
A tax certificate is an official document that certifies the amount of taxes due, including any penalties, interest, and known costs and expenses.
Tax certificates are used as proof that no taxes are owed on a property. Property owners may be required to provide a tax certificate when applying for a permit.
With TaxNetPro, You Can Do So Much More Than Requesting A Tax Certificate.
Tax Certs along with our numerous other solutions can change the game for your business. With TaxNetPro, clearance certificates are just a click away. But that's not all…
Get full access to official deed records, estimated taxes, land sketches, floorplan sketches, value history, and a wide range of other property tax and real estate data. At your fingertips.
Stay up to date.
---
Get notified about product updates and upcoming sales.