One Powerful Yet Simple Application - So Many Uses
Watch it Work
Who Owns It?, along with
your Pro account, enables a
new TaxNetUSA experience.
View ownership, save properties,
upload photos, and see everything
on your desktop and mobile device.
How It Works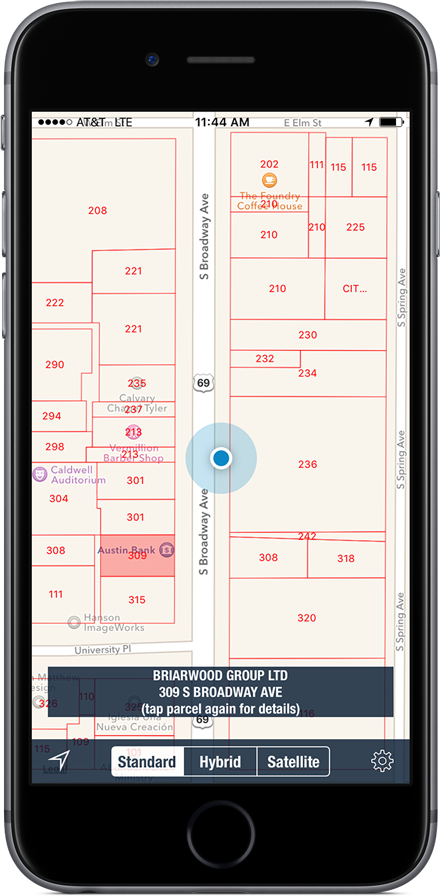 Launch the app with a simple tap of your finger. The display instantly shows where you are and highlights the property you are at and "Who Owns It".
If that is the property you are interested in, simply tap the display again to get additional property details, such as value, square footage, year built, deed date, Pictures* and more.
Still need more data? No problem, we have over 60 pieces of information on this property available at your fingertips, just tap again.
If this is not the property you want, just select any of the properties you see and tap them for ownership information. Of course you can move down the street with a swipe of your finger.
*Pictures? That's right, you can attach any pictures you want to a property record with this app in addition to the TaxNetUSA picture uploader! And because they are stored in the cloud, they are available for you to view from anywhere! Those pictures are stored in your TaxNetUSA Pro account and are only visible to you. And, they're available to you to view on your iPhone, iPad, your laptop, your home PC, and your work PC – 24 hours a day! No more looking through files or stacks of paper.
Property Details and More
If you've uploaded a picture, it will display when you tap the parcel to get more details on the property. Several photos will appear at the bottom of your screen.
Uploading photos to your Pro account couldn't be simpler. Go to the property record you want to attach the photo to - click the picture of the camera in the corner - click again and take the picture. If you like it, great, if you don't - no worries - you can choose to replace that photo right now and take another picture.
Now that photo is linked to your Pro account, and can be viewed from the "Who Owns it?" app or from within your Pro account.
You can even save photos to a list if you want. For example, if you're out looking for commercial buildings today for a prospect - save the list of properties and photos by a unique name, like "Potential new office space for Joe".
No limit to the number of photos you can attach to your account.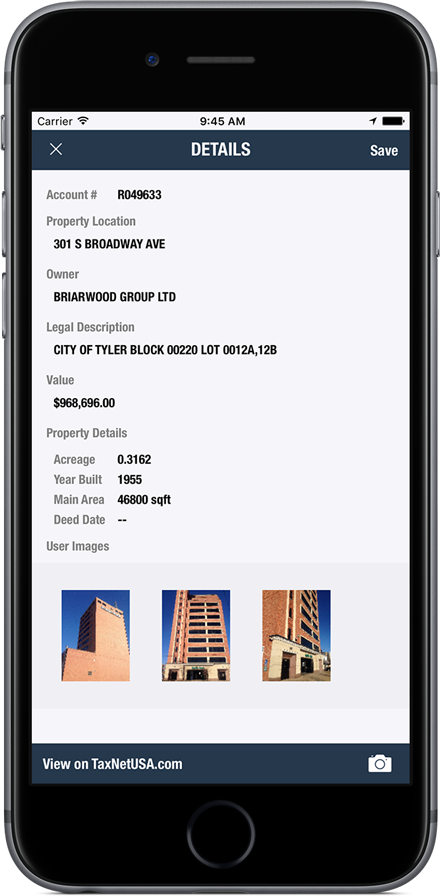 What you need to make it work.
1) A TaxNetUSA Basic or Pro user account
2) An Apple iPhone or iPad with iOS 8 or better, or
an Android device with version 4.0 or better
There is no extra charge for the "Who Owns It" app.
Choose My Plan



iPhone, iPad, and iOS are trademarks of Apple Inc, registered in the U.S. and other countries. Android is a trademark of Google Inc. The Android robot is reproduced or modified from work created and shared by Google and used according to terms described in the Creative Commons 3.0 Attribution License.